Machine Learning for Triaging Patients with Low Back Pain Towards Personalized Care
Motivation
The project aims to develop a clinical decision support system to assist hospital staff in triaging. Triaging describes the process in which a patient is briefly examined on admission to hospital and referred to the appropriate specialist on the basis of the results. The selection of the specialist and thus further treatment is based on best knowledge and thus varies from specialist to specialist. The agreement has only a kappa value of 0.67.
Aims and Approach
The project aims to determine which treatment is optimal for which patient. For this purpose, an extension of an existing clinical information system will be developed on the basis of the biopsychological information collected during triaging and the outcome of the treatment, which will provide a treatment recommendation.
The project focuses on patients with chronic low back pain. For this patient group a data set is available, which has been recorded and is continuously extended by our project partner at the University Medical Center Groningen (UMCG) in the Netherlands. The data includes diagnosis, triaging information, and responses from several follow-up surveys. Based on these follow-up surveys, the outcome of the treatment can be evaluated. Increased quality of life indicates successful or optimal treatment, while unchanged or decreased quality of life may indicate suboptimal treatment.
The research is conducted in cooperation with the UMCG Groningen and the University Hospital Oldenburg adding the clinical expertese. The research group contibutes in cooperation with the University of Oldenburg competences in the data analysis and the development of the CDSS.
The project is funded by the research pool of the University of Oldenburg from 1.1.2020 to 31.12.2022.
Dr. rer. nat. Sebastian Fudickar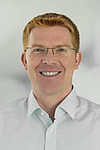 Nachwuchsgruppenleiter

Universität zu Lübeck
Institut für Medizinische Informatik
Ratzeburger Allee 160
23562 Lübeck


Building MFC8,2OG, Room 16